Stainless Steel 317 Weld Neck Flanges Stockiest and Suppliers
317L Stainless Steel Flanges, Stainless Steel 317L Flanges, Stainless Steel 317L Flange, UNS S31703 Flange, Stainless Steel 317L Industrial Flanges, SS 317L Flanges, ANSI B16.5 Stainless Steel 317L Flanges, SS 1.4438 Flanges, Stainless Steel 317L Pipe Flanges, ASTM A182 F317L Flange Supplier
Stainless Steel 317 Weld Neck Flanges
Stainless Steel 317L Weld Neck Flanges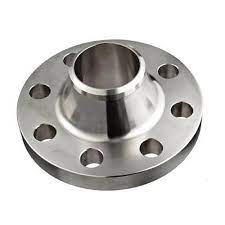 Stainless Steel 317 Weld Neck Flanges
Bhavya Steel are trading and providing Stainless Steel 317 Weld Neck Flanges spines all around the world. These Flanges have extraordinary flexibility inferable from the different surface medicines that they get. The sythesis of SS 317L spines has molybdenum which makes them battle disintegration. They likewise make the item fill the principal need of staying away from spills in pipes. Chromium and nickel grant the best nature of solidness to the ribs. Nickel additionally upholds their working at high temperatures. A definitive blend of these composites ensures that the item is helpful for shaping. The fabricability of SS 317L ribs is calculable. The grades with which these SS ribs are made make them truly viable. SS 317 spines have characteristics that are very interesting and helpful.
Processes that are treated on these SS 317L Weld neck  flanges are:-
• Hot treatment
• Toughening
Specifications for Stainless Steel 317 Weld Neck Flanges
| | |
| --- | --- |
| Dimensions | ANSI B16.5, ANSI B16.47 Series A & B, MSS SP44, ASA, API-605, AWWA, Custom Drawings |
| Size  | 1/2″ (15 NB) to 48″ (1200NB) |
| Class  | 150 LBS, 300 LBS, 600 LBS, 900 LBS, 1500 LBS, 2500 LBS, DIN Standard ND-6,10, 16, 25, 40 Etc. |
| DIN  | DIN2527, DIN2566, DIN2573, DIN2576, DIN2641, DIN2642, DIN2655, DIN2656, DIN2627, DIN2628, DIN2629, DIN 2631, DIN2632, DIN2633, DIN2634, DIN2635, DIN2636,DIN2637, DIN2638, DIN2673 |
| BS  | BS4504 , BS4504, BS1560, BS10 |
| Flange Face Type | Flate Face (FF), Raised Face (RF), Ring Type Joint (RTJ) |
Stainless Steel 317 Weld Neck Flanges Chemical Composition & Properties :-
Grade
C
Mn
Si
P
S
Cr
Mo
Ni
N
317
min.
–
–
–
–
–
18.0
–
11.0
–
max.
0.8
2.0
1.00
0.040
0.03
20.0
14.0
–
317L
min.
–
–
–
–
–
18.0
3.00
11.0
–
max.
0.03
2.0
0.75
0.040
0.03
20.0
4.00
15.0
–
Stainless Steel 317 Weld Neck Flanges Mechanical Properties :-
Grade
Tensile Strength (MPa) min
Yield Strength 0.2% Proof (MPa) min
Elongation (% in 50mm) min
Hardness
Rockwell B (HR B) max
Brinell (HB) max
317
515
205
35
95
217
317L
515
205
35
95
217
Equivalent Grades for Stainless Steel 317 Weld Neck Flanges:-
Grade
UNS No
Old British
Euronorm
Swedish SS
Japanese JIS
BS
En
No
Name
317
S31700

–

–
1.4449
–
–
–
317L
S31703

–

–

1.4438

–
–
–
Stainless Steel 317 Weld Neck Flanges Application Industries
Off-Shore Oil Drilling Companies
Power Generation
Petrochemicals
Gas Processing
Material Testing at Bhavya Steel :-


• Mechanical Testing Such as Tensile of Area
• Hardness Test
• Chemical Analysis – Spectro Analysis
• Positive Material Identification – PMI Testing
• Flattening Test
• Micro and MacroTest
Stockiest and Supplier of Stainless Steel 317 Weld Neck Flanges :-
We are one of the foremost Stockiest, Exporter and Supplier of Stainless Steel Plates, Sheets & Coils. We offer SS coil, sheet & plate that are exceptional resistance to corrosion. These SS Sheets, Plates & Coils are available in altered dimensions, Specification, grades & thickness in our consumer's requirements. These sheets & plates are extensively used in various applications industry. We also supply of Sheets, Plates & Coils in all categories of grades like SS 304 & 304l, ss 316 & 316l & ss 310 & 310s Sheets, Plates & Coils etc.
Flanges Exporters and Suppliers
Mumbai, Delhi, Kolkata, Chennai, Bengaluru, Hyderabad, Ahmadabad, Pune, Surat, Jaipur, Kanpur, Lucknow, Nagpur, Ghaziabad, Indore, Coimbatore, Kochi, Patna, Kozhikode, Bhopal, Thrissur, Vadodara, Agra, Malappuram, Thiruvananthapuram, Kannur, Ludhiana, Nashik, Vijayawada, Madurai, Varanasi, Meerut, Faridabad, Rajkot, Jamshedpur, Srinagar, Jabalpur, Asansol, Vasai Virar City, Allahabad, Dhanbad, Aurangabad, Amritsar, Jodhpur, Ranchi, Raipur, Kollam, Gwalior, Durg-Bhilainagar, Chandigarh, Tiruchirappalli, Kota, etc.
Singapore, Malaysia, Hongkong, Thailand, Indonesia, Taiwan. Other countires includesAfghanistan, Albania, Andorra, Austria, Bahrain, Bangladesh, Bhutan, Brunei, Belarus, Belgium, Bulgaria, Cambodia, China, Cyprus, Croatia, Czech Republic, Denmark, Estonia, Egypt, Finland, France, Germany, Greece, Georgia, Hungary, Iceland, Ireland, Italy,Iran, Iraq, Israel, Japan, Jordan, Kazakhstan, Kuwait, Kyrgyzstan, Lebanon, Latvia, Latin America, Liechtenstein, Lithuania, Luxembourg, Malta, Moldova, Monaco, Maldives, Mongolia, Myanmar (Burma), Nepal, North Korea, Netherlands, Norway, Oman, Poland, Portugal, Pakistan, Palestine, Philippines, Qatar, Russia, Romania, Russia, San Marino, Serbia and Montenegro, Slovakia, Slovenia, Spain, Sweden, Switzerland, Saudi Arabia,South Korea, South Africa, Sri Lanka, Syria,Tanzania, Tajikistan, Thailand, Turkey, Turkmenistan, Ukraine, United Kingdom, United Arab Emirates (UAE), Uzbekistan, Vietnam, Yemen.
Chemicals, Petrochemicals, Oil & Natural Gas Organization, Fats, Fertilizers, Sugar Mills & Distilleries, Cement Industries, Ship Builders, Paper Industries, Pumps, Automation, Paints, Steel Industries, etc.
Stainless Steel 317 Weld Neck Flanges Other Available Products
| | |
| --- | --- |
| Stainless Steel 317 Flange | ASME SA182 F317 Blind Flange |
| 317 SS Slip on Flange | ASTM A182 F317L Threaded Flange |
| UNS S31700 Reducing Flange | Stainless Steel 1.4449 Socket Weld Flange |
| 317L Stainless Steel Weld Neck Flanges | SS A182 F317L Lap Joint Flanges |
| Stainless Steel 1.4449 Long Weld Neck Flanges | 317 SS Spectacle Blind Flanges |
| UNS S31700 Spades & Ring Spacers | ASME SA182 F317 Nipoflange |
| ASTM A182 F317L 5D Weldoflange | 317L Stainless Steel Flange Outlet |
| Stainless Steel 317 Forged Flanges | Stainless Steel 1.4449 Plate Flange |
| ASTM A182 F317L Ring Type Joint Flanges | UNS S31700 Raised Face Flanges |