Stainless Steel 410s Sheets, Plates & Coils Stockiest and Suppliers
ASTM A240 Stainless Steel 410s Shim Sheets, Stainless Steel 410s Cold Rolled Plates, Stainless Steel 410 Coils, 410s SS Chequered Plate Exporter, SS Werkstoff No 1.4006 Sheets, SS 410 Perforated Sheets Dealer in India, SS Sheets, Plates and Coils Suppliers and Importers
Stainless Steel 410s Sheets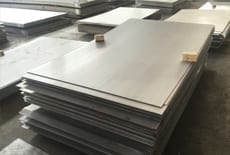 Stainless Steel 410s Plates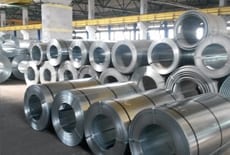 Stainless Steel 410s Coils
SS 410S sheets are a non-solidifying change of SS 410 sheets. A little aluminium expansion limits austenite arrangement at high temperatures, along these lines confining the sheet's capacity to solidify. The outcome is a delicate, malleable condition when the material is quickly cooled from over the basic temperature. These plate's non-solidifying character brings about the development of solidifying breaks when the sheets are welded. The sheets are totally ferritic in their toughening condition. These sheets give moderate erosion obstruction and nonpartisan chloride opposition. SS UNS S41008 sheets are powerless to refinement. The oxidation opposition of these sheets can go up to 705 °C and scaling gets excessive above around 811 °C. The SS 410S sheets are acceptable at welding however exceptional thought is required to dodge fragile. We at Bhavya Steel, likewise give affirmations the entirety of our items, for example, Test Certificates confirming NACE MR0103, NACE MR0175, Guarantee Letter, Raw Material Test Reports and so on.
Due to the SS UNS S41008 sheet's property of chilling off from raised temperatures without solidifying, it is especially valuable for strengthening boxes, extinguishing racks, oxidation safe parcels and other high-temperature units. Petrochemical Industry likewise utilizes the SS 410S sheets for tower pressing and refining plate. SS 410S plates are additionally utilized in the assembling of Heat Exchangers, door valves and press plates.
Specifications for SS 410s Sheets Size ;-
Specifications : ASTM A240 / ASME SA240
Dimensions : ASTM, ASME, and API
Width : 1000mm, 1219mm, 1500mm, 1800mm, 2000mm, 2500mm, 3000mm, 3500mm, etc
Thickness : 4mm-100mm
Length : 2000mm, 2440mm, 3000mm, 5800mm, 6000mm, etc
Surface Finish : 2B, 2D, BA, NO.1, NO.4, NO.8, 8K, mirror, chequered, embossed, hair line, sandblast, Brush, etching, Hot rolled plate (HR), Cold rolled sheet (CR), SATIN (Met with Plastic Coated) etc
Hardness: Soft, Hard, Half Hard, Quarter Hard, Spring Hard etc.
Form: Coils, Foils, Rolls, Plain Sheet, Shim Sheet, Perforated Sheet, Chequered Plate, Strip, Flats, Blank (Circle), Ring (Flange) etc
Stainlesss Steel 410S Plates Equivalent Grades
| | | | | | | | |
| --- | --- | --- | --- | --- | --- | --- | --- |
| STANDARD | WERKSTOFF NR. | UNS | JIS | AFNOR | BS | GOST | EN |
| SS 410S | 1.4000 | S41008 | SUS 410S | Z 12 C 13 | 410S S 21 | – | – |
Grade
C
Mn
Si
P
S
Cr
Ni
Mo
410S
Min
–
–
–
–
–
11.5
–
–
max
0.08
1.00 max
1.00
0.04
0.03
14.5
0.60
–
ASTM A240 SS 410S Plates Mechanical properties:
| | |
| --- | --- |
| Tensile Strength ksi (MPa) min | 64.4 (444) |
| Yield Strength 0.2% offset ksi (MPa) min | 42 (290) |
| Elongation (% in 50mm) min | 33 |
| Hardness (Rockwell B) MAX | 75 |
Physical properties :
Grade
Density lbm/in3
Thermal Conductivity(BTU-in/hr- ft. °F)
Electrical Resistivity(in x 10-6)
Modulus of Elasticity (psi x 106
Coefficient of Thermal Expansion (in/in)/°F x 10-6
Specific Heat(BTU/lb/°F)
Melting Range(°F)
410S
-at 68°F: 0.280
187 at 212°F
23.7 at 68°F
29
6.0 at 32 – 212°F
0.11 at 68°F to 212°F
2700 to 2790
–
–
–
–
7.5 at 68 – 1200°F
–
–
SS 410s Sheets, Plate & Coils Application Industries
Off-Shore Oil Drilling Companies
Power Generation
Petrochemicals
Gas Processing
Speciality Chemicals
Pharmaceuticals
Pharmaceutical Equipment
Chemical Equipment
Sea Water Equipment
Material Testing at Bhavya Steel :-


• Mechanical Testing Such as Tensile of Area
• Hardness Test
• Chemical Analysis – Spectro Analysis
• Positive Material Identification – PMI Testing
• Flattening Test
• Micro and MacroTest
Stockiest and Supplier of Stainless Steel 304 Sheets, Plates and Coils :-
We are one of the foremost Stockiest, Exporter and Supplier of Stainless Steel Plates, Sheets & Coils. We offer SS coil, sheet & plate that are exceptional resistance to corrosion. These SS Sheets, Plates & Coils are available in altered dimensions, Specification, grades & thickness in our consumer's requirements. These sheets & plates are extensively used in various applications industry. We also supply of Sheets, Plates & Coils in all categories of grades like SS 304 & 304l, ss 316 & 316l & ss 310 & 310s Sheets, Plates & Coils etc.
Sheets / Plates / Coils Exporters and Suppliers
Mumbai, Delhi, Kolkata, Chennai, Bengaluru, Hyderabad, Ahmadabad, Pune, Surat, Jaipur, Kanpur, Lucknow, Nagpur, Ghaziabad, Indore, Coimbatore, Kochi, Patna, Kozhikode, Bhopal, Thrissur, Vadodara, Agra, Malappuram, Thiruvananthapuram, Kannur, Ludhiana, Nashik, Vijayawada, Madurai, Varanasi, Meerut, Faridabad, Rajkot, Jamshedpur, Srinagar, Jabalpur, Asansol, Vasai Virar City, Allahabad, Dhanbad, Aurangabad, Amritsar, Jodhpur, Ranchi, Raipur, Kollam, Gwalior, Durg-Bhilainagar, Chandigarh, Tiruchirappalli, Kota, etc.
Singapore, Malaysia, Hongkong, Thailand, Indonesia, Taiwan. Other countires includesAfghanistan, Albania, Andorra, Austria, Bahrain, Bangladesh, Bhutan, Brunei, Belarus, Belgium, Bulgaria, Cambodia, China, Cyprus, Croatia, Czech Republic, Denmark, Estonia, Egypt, Finland, France, Germany, Greece, Georgia, Hungary, Iceland, Ireland, Italy,Iran, Iraq, Israel, Japan, Jordan, Kazakhstan, Kuwait, Kyrgyzstan, Lebanon, Latvia, Latin America, Liechtenstein, Lithuania, Luxembourg, Malta, Moldova, Monaco, Maldives, Mongolia, Myanmar (Burma), Nepal, North Korea, Netherlands, Norway, Oman, Poland, Portugal, Pakistan, Palestine, Philippines, Qatar, Russia, Romania, Russia, San Marino, Serbia and Montenegro, Slovakia, Slovenia, Spain, Sweden, Switzerland, Saudi Arabia,South Korea, South Africa, Sri Lanka, Syria,Tanzania, Tajikistan, Thailand, Turkey, Turkmenistan, Ukraine, United Kingdom, United Arab Emirates (UAE), Uzbekistan, Vietnam, Yemen.
Chemicals, Petrochemicals, Oil & Natural Gas Organization, Fats, Fertilizers, Sugar Mills & Distilleries, Cement Industries, Ship Builders, Paper Industries, Pumps, Automation, Paints, Steel Industries, etc.
| Grade | Reasons for choosing the grade |
| --- | --- |
| 416 | High machinability is required, and the lower corrosion resistance of 416 is acceptable. |
| 420 | A higher hardened strength or hardness than can be obtained from 410 is needed. |
| 440C | A higher hardened strength or hardness than can be obtained even from 420 is needed. |
Stainless Steel 410s Sheets, Plates, Coils Other Available Products