Food standard stainless steel is suitable for hygienic food handling, but not all stainless steel is considered food. Various food processing, food packaging, and beverage production industries worldwide have changed their production methods to stainless steel. Stainless steel 304 of the food-grade meets all the requirements for preparing, storing, and dining food as healthy. It does not cause corrosion, rust, or provides harmful pathogens for living conditions.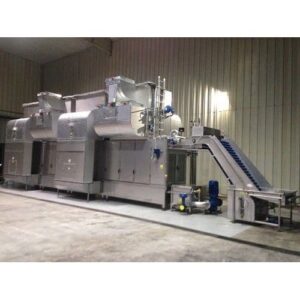 The Most Common Grade for Suppliers and Stockists:
Stainless Steel 304 is the most popular food-grade stainless steel. But Stainless Stee also comes with a different name or code, stainless steel 18/8 or 18/10. The figures are the stainless steel composition, chromium content, and nickel content of the product. Both 18/8 and 18/10 have 18% chromium and 8% or 10% nickel, respectively.
In the food industry, Stainless steel 304 is so effective due to its chemical and corrosion resistance. Chromium helps the product from oxidization or rust while protecting the nickel material from corrosion of the food-grade container. As the nickel content is higher, the stainless steel is more resistant to corrosion.
Applications of Stainless Steel 304: 
Stainless steel has become one of the most popular materials in kitchens and the food industry today. Stainless steel is always necessary, from food processing plants to major commercial kitchens to home kitchens. The resistance to corrosion and oxidization and longer life make stainless steel one of the best products in the food processing and storage industries.
Usually, applications for Stainless steel products in the Food Service Industry include transportation systems, tanks, containers, supports, machinery components, skids, platforms, processing equipment, and more.
Benefits of Using Stainless Steel:
No chemicals can migrate into your food inside type 304 stainless steel that makes it a healthy, strong, and durable choice for appliances, dishes, utensils, food storage, etc.
Due to the resistance of the pitting and quality surface finish, cleaning and maintenance are easy. Another advantage unique to the Food Service Industry is that stainless materials are neutral to the food items. So the food or beverage doesn't change its colour, taste, quantity or smell. Since SS 304 is environmentally friendly; it is 100% recyclable and reusable.
SS 304 is the most popularly used of all types of stainless steel in the Food Service industries. The discovery of Stainless steel continues to spread within the Food Service Industry about hygiene and performance.
Stainless Steel in Food Industry
Stainless steel 304 is widely used in the food industry due to its inherent resistance to corrosion. It can be formed into complex shapes. Stainless steel can be cleaned and sterilised without deterioration. It also does not impart any colour and flavour to food, making it ideal for the food industry.
The majority of the stainless steel 304 used in food applications contain chromium in the range of 16 – 18 % as it is found to have optimum corrosion resistance in wide range of food and beverage media. Austenitic grades are used in the manufacturing of cutlery, hollow-ware and kitchen utensils. Other applications include brewing vessels, milk tankers. High alloy austenitic grades are used for storage, transportation of corrosive food and beverage products. Grades containing Molybdenum are resistant particularly to salt containing food. 316L/1.4404 is referred to as "food grade" due to its diverse use in the food industry. Similarly, Stainless Steel 304L/1.4307 is also a very popular grade for use in Food industry applications.
The specific characteristic of ferritic stainless steel 304 is that it is magnetic. It is used in household appliances manufacturing (dishwashers, refrigerators, ovens). The grade 430/1.4016 offers sufficient corrosion resistance for a few applications where high corrosion resistance is not demanded. Another advantage of this grade is its affordability. The price of 1.4016 is significantly less than austenitic grades, thus making it a cost friendly choice. They are particularly good in highly oxidising environments (e.g. nitric acid) and offer excellent resistance to Stress Corrosion Cracking. However poor formability and weld ability limits the use.
Martensitic grades have high levels of carbon. This type of stainless steel is hardenable by heat treatment. The grade is used in applications where high wear resistance is desired. 420/1.4021 is a popular grade for the manufacturing of knives blades. For superior quality knives which retain the sharpness even after prolonged use, the grade 1.4116 can be used.
Duplex grades are preferred for handling corrosive foodstuffs as they offer high resistance to corrosion caused by saline solutions at high temperatures. Duplex grades offer superior Stress Corrosion Cracking, Crevice and Pitting resistance than austenitic grades. Applications include custard and vinegar making, manufacturing of sauces, cheese dairies and fish-canning plants
ADVANTAGE OF STAINLESS STEEL 304 IN THE FOOD SERVICE INDUSTRY