SA387 Grade 11 Alloy Steel sheet is widely used and highly efficient, especially in the petrochemical, gas and oil industries, where liquids and gas are always stored at high temperature.
These plates have also a range of features such as electrical conduction, proof-stress and expansion modulus, tensile strength, ultimate strength of tensile, melting point, thermal expansion, elongation, density and electricity resistance.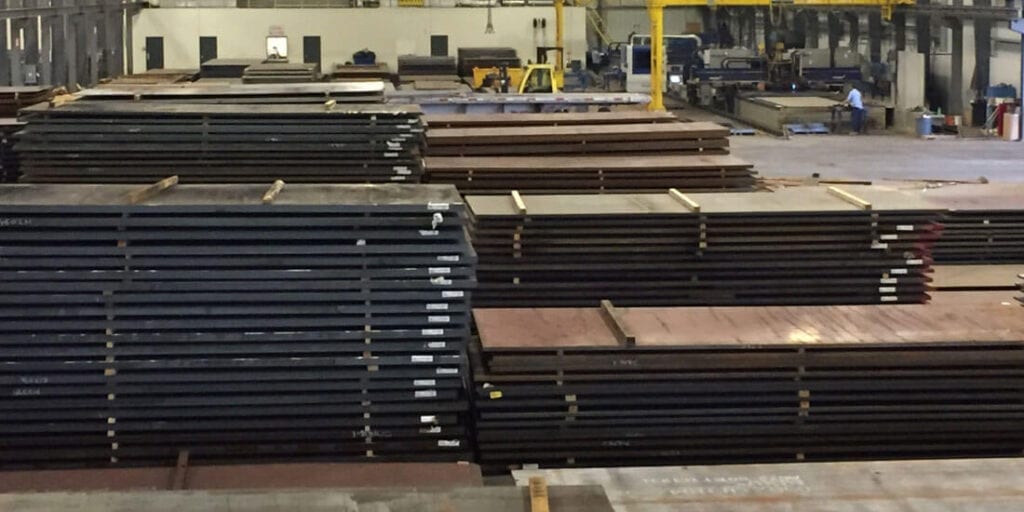 An Introduction to ASME SA387 Grade 11:
SA387 Grade 11 Alloy steel plates & sheets are made of the various types of properties in extreme conditions for greater durability and heat resistance. These plates are usually ideally suited for use in chemical processing and storage due to their surface quality.
In fact, these sheets are highly demanding plate for the purpose of excellent corrosion resistance in this sheet. The sheets and plates are resistant to a general corrosive environment, polluted rust, and seawater rust.
The material is corrosion-resistant to the application of sour gas. The composition of the chromium and molybdenum makes the material resistant to corrosion and oxidation. The same specification applies to class 1 and class 2 plates.
The Alloy Steel Plate ASTM SA387 Grade 11 Alloy Steel Class 2 is less popular but more specific and unique in applications. The plates also have a strong minimum tensile strength of 690MPa and minimum output strength of 310MPa.
The plate a387 gr11 are in thicknesses between 5mm and 150mm in width between 1000mm and 4500mm, and in length between 3000mm and 18000mm. The A387 Gr 11 Plate has been hot rolled and strengthened. It comprises carbon, molybdenum, manganese, phosphorus, sulphur, silicon and chromium.
Physical Properties of Alloy Steel:
Elastic Modulus: The stiffness of a material is basically Elastic Modulus. It's so simple, in other words, to stretch or bend. At room temperature the elasticity modulus decreased from 215 GPa to 140 Gpa.
Modulus of Rigidity: Shear modulus also called a Modulus of rigidity is the measure of the body rigidity provided by the shear stress-to-shear strain ratio.
Thermal Conductivity: The thermal conductivity can be measured as the rate at which heat transfers perpendicularly to the area by means of conductivity through the unit cross-sectional area of a material.
Specific Gravity: The density ratio of a substance to the standard substance is the specific gravity.
Specific Heat: It is the heat measured to increase the temperature to 1◦C of the material. The value is 442 J/kg at room temperature and K increased to 688 J/kg K at 527◦C of 527.
Poisson's Ratio: The Poisson's ratio is a unit breadth lateral contraction divided by unit length longitudinal extension. At room temperature, Poisson's ratio rises from 0.288 to 0.336 at 760◦C.
Thermal Diffusivity: In the heat conduction equation, Thermal Diffusivity is the constant that defines the heat rate in the material. Thermal conductivity, specific heat and density are correlated with this.
Physical Properties at Room Temperature of Sa 387 Alloy Sheet & Plates:
| | | |
| --- | --- | --- |
| | English units | SI Units |
| Specific Gravity | 7.83 | 7.83 |
| Density | 0.2833 lb/in3 | 7.83 g/cm3 |
| Thermal coefficient of expansion | 7.3 x 10-6◦F (70-1000◦F) | 13.2 x 10-6◦C (21-538◦C) |
| Modulus of Elasticity At room temperature | 29.7 psi x 106 | 215 GPa |
| Modulus of rigidity At room temperature | 12.0 psi x 106 | 83 GPa |
| Specific heat | 0.105 Btu/lb/◦F (120-210◦F) | 442 J/kg K at 23◦C688 J/kg K at 23◦C969 J/kg K at 23◦C |
| Thermal conductivity | 23 (Btu. ft/ft2.hr/◦F [70◦F]) | 39.5 (W/m-◦C [21◦C]) |
| Poisson's ratio at room temperature | 0.288 | 0.288 |
Applications and Fabrication Specifications of SA 387 Alloy Sheets and Plates:
The plates are available in various specifications. Smooth surface, end finish, dimensions, size, shapes and several other features make plates available to users. The plates are also supplied to the clients according to their needs.
The storage, transport and management of process media varies from harmful gases, essential crude oil to wastewater garbage and vital drinking water are crucial to pressurized equipment.
Since most products designed for use with under-pressure are manufactured from high-quality materials for the protection against leakage and degradation, equipment operation at high temperature or the handling of high-performance materials such as steel plate ASME SA387-11 must be constructed.
The Chrome Moly steel plate is killed in the ASTM A387 and thermally treated. The main alloying elements are chromium and molybdenum. They give many of the stainless steel materials at low prices. The Chromium content of A387 alloy steel is 0.5% to 5% compared to 16% in stainless steel.
The first to have a steam temperature of more than 500°C in power stations was chromium and molybdenum alloys. It is because of its combined properties (at the minimum Cr content of 9 per cent) and the minimum Mo contents of 1 per cent that this pair of alloy elements work so effectively.
Mo gives steel better efficiency temperature and added resistance. In addition, the Cr results in outstanding oxidation and makes the resistance of steel corrosion more powerful. These advantages give chromium moly reliability and are used in so many applications.
In many areas of building and manufacturing, these alloys are preferable. Some innovative engineers realized that hundreds of lives might have been saved if the towers have been made with A387 grade 11 alloys. The concept is there for CrMo to maintain an additional approximately 50 per cent of its strength in 1,000 degrees of F and with effect, not to collapse so fast. The material could be used in future to construct skyscrapers and other buildings.
The ability to surface hardening (case hardens) or to thermal hardness is one of the major advantages for heavy duty machinery. Case hardening makes the surface and the interior more ductile and less brittle. In modern high-performance motors, the torsion strength inherent to CrMo alloys is extremely significant.
The welding component in fabricating application is typically B3 grade, as the nominal composition of the 387 Grade 11 alloy is 1.25% Cr and 0.5% Mo. During and after all welding it is considerably more effective to use vibratory stress relief equipment. The procedure known weld conditioning does not reduce mechanical stresses, but with thermal stresses it works well.
ADVANTAGE OF SA387 GRADE 11 ALLOY STEEL